PGN Mentor
---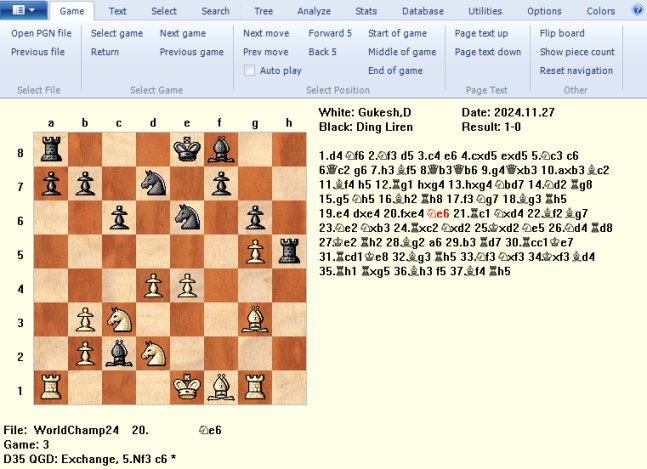 PGN Mentor is a database/study program that provides extensive functionality for viewing, searching, and analyzing chess games. Chess players and coaches around the world have been using PGN Mentor since 1998.
In addition to the PGN Mentor software, this site is also home to the best collection of PGN files on the web. Visit our PGN Files page for free access to over a million Grandmaster games.
You can try out the demo version of PGN Mentor before purchasing the full version. The demo has full capability for reading and viewing of PGN files, and full functionality for the demo PGN files. Also, a free companion PGN file to the book Garry Kasparov On My Great Predecessors, Part 1 is included with the demo download. Download PGN Mentor.
Once you decide to purchase the program, your payment will be processed immediately and you will be able to download the software right away. Purchase PGN Mentor for only $25.
Extensive capabilities for searching PGN files
Large ECO opening book database, over 13,400 individual lines
Tree organization modes for PGN files and ECO code openings
Powerful database functions for creating customized databases
Enhanced display layout for viewing and creating annotated games
Crafty interface to play or analyze games utilizing the Crafty chess engine
Universal Chess Interface (UCI) to play or analyze games utilizing UCI chess engines such as Glaurung, Rebel UCI, Ruffian, Rybka, and many more
Creation of chess diagrams in GIF, JPEG, PNG, Bitmap and HTML formats
---
---
Copyright © 2022 64 Squares.